Analog Devices mmWave 5G Chipset Supports Full 5G NR FR2 Spectrum for Simpler, Smaller Radio Solutions
Analog Devices, Inc. has introduced a millimeter-wave (mmW) 5G front-end chipset that addresses the required frequency bands, enabling designers to reduce complexity and bring smaller, general-purpose radios to market faster. Consisting of four highly integrated ICs, the chipset provides a complete solution that greatly reduces the number of components required for 24GHz to 47GHz 5G radio applications.
As global mmWave 5G deployments accelerate, operators face greater pressure to reduce rollout costs while expanding network coverage with more energy-efficient, lighter, and more reliable radio products. This requires highly linear, compact and energy-efficient broadband products that allow multiple-band design reuse without sacrificing quality and performance. Analog Devices' mmWave 5G front-end chipsets take original equipment manufacturers (OEMs) out of narrowband mode. In narrowband mode, competing solutions trade bandwidth for increased design execution difficulty and reduced radio frequency (RF) performance, while also outsourcing key intellectual property such as packaging, test and thermal modeling.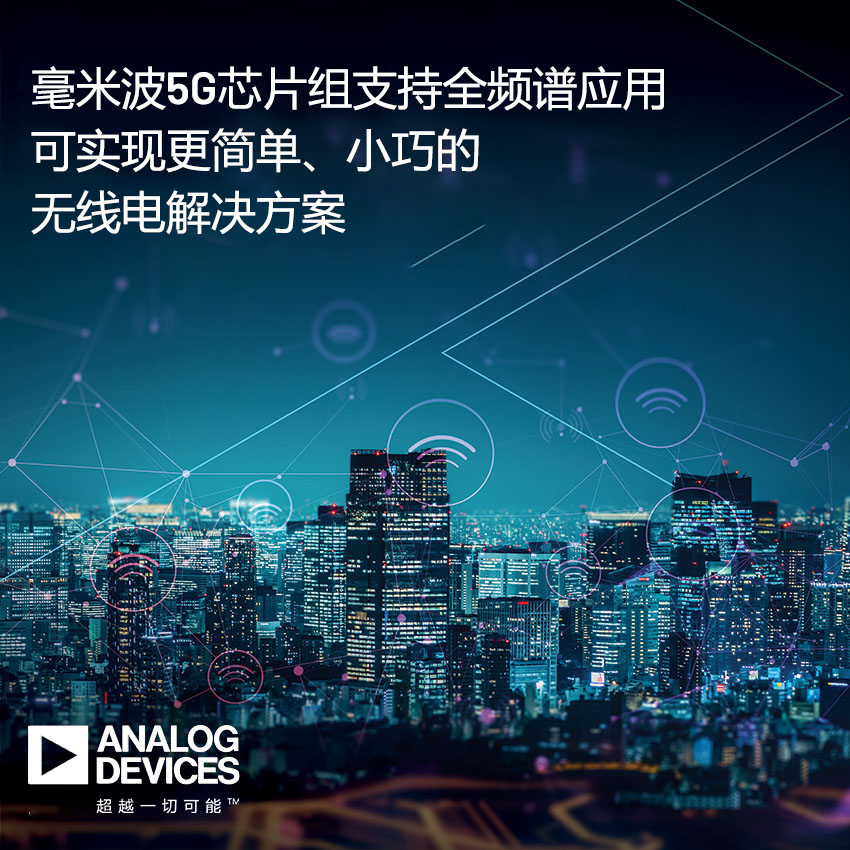 The new chipset includes two single-channel (1T1R) up/down converters (UDCs) and two dual-polarized 16-channel beamforming devices using an advanced CMOS process. The power efficiency and linear output power provided by the beamformer enables mmWave phased array designs to reduce size, weight, power and cost compared to other solutions. This full-band up/down converter features high drive levels, eliminates the need to offer multiple models for different frequency bands, and incorporates drive stages, saving bill of materials.
In addition to enabling factory-configured non-volatile memory (NVM) via patented IP, the chipset also seamlessly operates phased array calibration functions in the field. This enables OEMs to break out of the traditional design constraints of NVM-only architectures, which are limited to a one-time factory calibration of the beamformer. This calibration does not address non-ideal characteristics external to the IC and can lead to suboptimal calibration results.
ADIThe company's mmWave 5G front-end chipsets include:
● ADMV4828——16-channel beamformer, single-chip design, supporting the entire frequency band from 24GHz to 29.5GHz, output power greater than 12.5dBm, error vector magnitude (EVM) of 3%, providing 400MHz 64QAM 5G NR waveform, power consumption per channel Only 310mW.
● ADMV4928——16-channel beamformer, single-chip design, supports the entire frequency band from 37GHz to 43.5GHz, output power is greater than 11.5dBm, EVM is 3%, provides 400MHz 64QAM 5G NR waveform, and consumes only 340mW per channel.
● ADMV1128 – 24GHz to 29.5GHz wideband up/down converter with optional on-chip RF switch and hybrid switch, x2/x4 LO multiplier mode, and baseband IQ support.
● ADMV1139 – 37GHz to 50GHz wideband up/down converter with single-chip design for the upcoming 47GHz and 37GHz to 43.5GHz 5G NR bands, with optional on-chip RF switches and hybrid switches, and baseband IQ support.
With a long history of R&D in mmWave signal chain solutions, Analog Devices provides comprehensive in-house quality management and package development, enabling engineers to quickly create reliable, fully optimized, customizable 5G radio products.
Product availability
| | | | |
| --- | --- | --- | --- |
| product | Full mass production | Supports 5G NR bands | package |
| ADMV4828 | Available now | n257, n258 and n261 | 304-Bump, 10 mm × 8.5 mm CSP BGA Package |
| ADMV4928 | Available now | n260, n259 | 239-Bump, 10 mm × 7 mm CSP BGA Package |
| ADMV1128 | Available now | n257, n258 and n261 | 131-Bump, 6 mm × 6.5 mm CSP BGA Package |
| ADMV1139 | Available now | n260, n259 and n262 | 131-Bump, 6 mm × 6.5 mm CSP BGA Package |
Key words:
'); (window.slotbydup=window.slotbydup || []).push({ id: '3303971', container: s, size: '20,5', Display: 'inlay-fix' }); })();